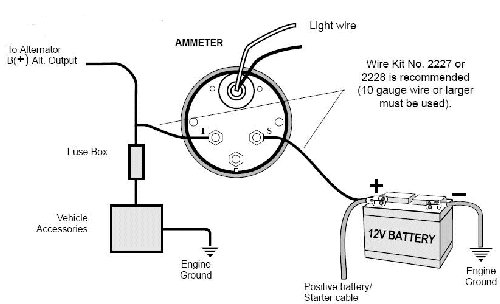 Have your maximum alternator output tested. Choice of improper ammeter rating and/or wire size, and any loose connections can cause dangerous overheating, which could lead to a fire in the vehicle. Ammeter and wire should have a capacity of at least 10 amps more than your vehicle's maximum alternator output.

1. . Disconnect negative (-) battery cable. (Wear safety glasses.)

2. 10 GA wire or larger must be used

3. IMPORTANT: Verify that base nuts on both meter terminals are tight. Tighten base nuts prior to installing terminal lugs and wires.

s CAUTION

DO NOT CONNECT THE AMMETER ACROSS THE BATTERY

Example wiring of a typical Ammeter installation Consult vehicle

Mfr. for specific wiring details and safety considerations.