Changing Rake Angle
Rake angles can be changed in two ways. Changing the neck angle on the frame, or adding angled triple trees.
Changing the neck angle involves cutting the neck from the frame tubes and lengthening or shortening the frame tubes to get the desired angle, then welding the neck tube back into place. This is not a job for a novice. Any change in frame geometry can result in serious handling changes. Consult a local fabricator or motorcycle shop. Custom frames can be purchased with a variety of rakes.
The other option is to mount the front forks with angled triple trees. Angled triple trees use mounting holes that have been angled in order to add 2-5 degrees of rake to the front forks without changing frame geometry. These are very useful for adjusting trail when minor changes to fork length, and wheel sizes have been made.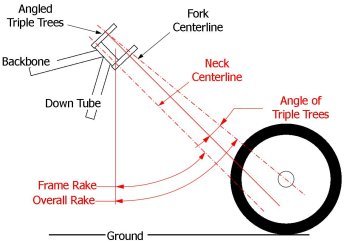 A quick math example, along with the illustration to the right (Affect Of Angled Triple Trees), should demonstrate the overall affect of using triple trees.